La Maison Pacifique – "The Peaceful House"
This stunning beachfront property is a true luxury holiday haven and became our beloved home away from home and the heart of our SunSoaked "La Dolce Vita" campaign shoots.
As soon as the SunSoaked team arrived it was hard not to immediately relax with the spacious calm and head to one of the breakout spaces or walled garden areas with a good book. For a moment we were all lulled into feeling we were on a luxurious holiday escape.
But alas, no – we had a packed 2 day of shoots ahead of us all.
Waking up at 4.45am for hair and makeup seemed so less brutal when we could hear the nearby dawn chorus rising from neighbouring bushland and the sound of the waves.
Cami in NICOLE Swim Top in Sotto la Palma – click to buy and MISCHA Capri Pant in Sotto la Palma – click to buy.  (Handmade leather visor – @FelicityBoevinkMillinery)
Our early morning sunshine shoot on the beach did not disappoint – truly, why would we want to shoot anywhere else when we have this on our back door.
Australia truly is the lucky country!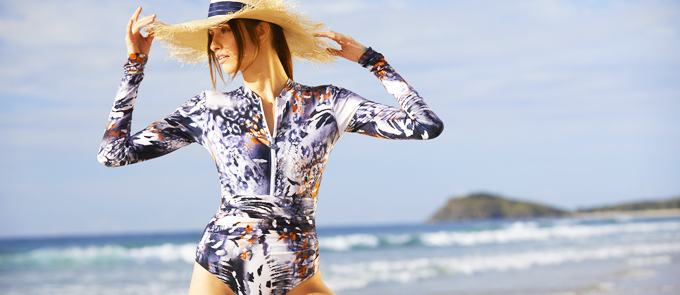 Cami in EMMA One Piece in Prendimi – click to buy.  (Handmade water hyacinth hat – @FelicityBoevinkMillinery)
La Maison Pacifique was the perfect location with the walled garden providing the perfect background for the romantic SunSoaked Floreale print (below)
Olivia in JANIE One Piece – click to buy and Cami in MARQUESSA One Piece – click to buy and BRIGIT Swim Top on Floreale – click to buy.
From the pre-shoot final prep meetings in the serene light filled dining room to celebratory  lunch and dinners on decked terrace, La Maison Pacifique – provided the perfect luxury laid back vibe for our tribe of production crew and models on Day 1 and everyday women staying over and modelling for the #SunSoakedSisterhood shoot on Day 2.
BOOK THE HOME WE USED TO SHOOT OUR "LA DOLCE VITA" & #SUNSOAKEDSISTERHOOD CAMPAIGN SS17/18 AND MENTION SUNSOAKED TO GET A COMPLIMENTARY BOTTLE OF CHAMPAGNE AND CHOCOLATES ON ARRIVAL.
There are other added extras for your La Maison Pacifique experience too including champagne on arrival, flowers and grocery services.  This takes the hassle out of your arrival with a chance to ensure that no matter what time you arrive, they can have it all ready for you
BOOK YOUR LUXURY ESCAPE NOW
La Maison Pacificque
Get in touch with Di for enquiries: +61 411 052 75 or
info@lamaisonpacifique.com